Unlimited Handmade Floor Tile Textures
There are an almost unlimited number of textures available when selecting floor tiles from companies such as BarroNica Building Products. These textures run the gamut from rough to smooth and include such specialized possibilities as embossing and distressing of the handmade clay floor tile.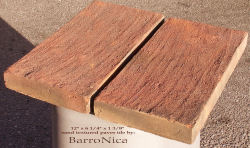 Rough sand finished handmade clay paver tile
Rough Sand Finish
For those applications requiring a rough texture, such as sloped driveways or other areas where increased frictional resistance is required, a rough sand finish may be used.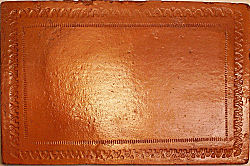 Embossed handmade clay floor tile
Distressing and Antiqueing
Mechanically distressing handmade clay floor tile offers another way that tile texture can be varied. This process, when combined with rubbing compounds of various tints, is labor intensive but produces a unique aged patina that is normally found only in antique handmade clay floor tiles.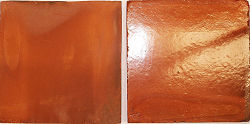 Smooth unfinished and finished handmade clay floor tiles
Smooth or Semi-Rustica for Most Clay Tile Floors
The smooth texture is specified for most clay tile floors. For added texture when the floor is finished, the "semi-rustica" texture can be specified. Either texture can be finished in the same manner with either a liquid polymer finish, a wax finish, or a combination of the two.
| | |
| --- | --- |
| Smooth textured handmade clay floor tile | Semi-Rustica textured handmade clay floor tile |
Embossing
Embossing adds a variation to handmade clay floor tile that both modifies the overall texture as well as adds a unique design touch.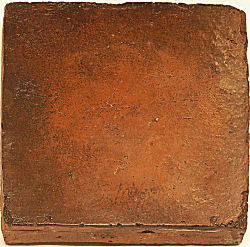 Distressed and antiqued handmade clay floor tile